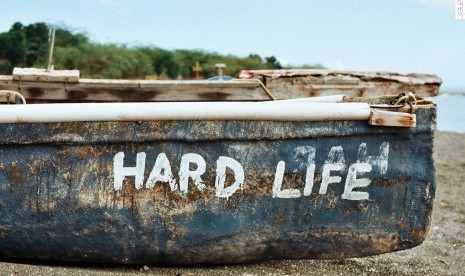 Early in the morning...
He start his day as an ordinary working
He prepares his daily merchandise thing...
Pray that this day he can get important thing..
He set up his cart...
He manage his merchandise craft ...
He already done his small business since the past...
He believe his destiny with the faith..
He push his cart ...
entering a dusty road..
Looking some prespective costumer..
after get tired...
He stopped his cart in the corner..
In front of him.. a view of the opposite side of housing
one of the highdown buildings... with a loftly standing...
and the other of rundown buildings
As a legal citizens...
actually he has right...
to get a capable house to live in..
especially in this lovely country...
with the fertile land and wide sea..
Impossible..people live in the poverty..
something goes wrong...
A hunger leader...
Let their citizens live in the danger..
oh God what of my sin..
That my life full of problem..
And after that.. That small and skinny feet walked again in to dusty road...
Message: I want Declared a Equality Economics Movement by Zakat...
Written by Fauzan Suhada, ST
Graduated from Mechanical Engineering UI

Year of graduated 2001



Dedicated to Fitriah Setiarini, S.Si

Graduated from biology IPB

Year : 2002

Mother of Fahri izza and Aisha Muftiarini
ROL